Come watch the Tour de Terrace Parade! See celebrities, cool cars, amazing floats, drill teams, Mountlake Terrace High School Athletes, and so much more! And of course, the SeaFair pirates are on hand to "terrify" and delight the children!
When Friday, July 29, 2016
Time 7:00 PM
Check-In Check-in at the Civic Center on 58th & 232nd SW
Notice Backpacks are prohibited and will be subject to search
Check out the offical parade map in our maps sections
Want to participate in the parade? Download the Application fill it out, and send it in!
photo Mark Hopkins
Complete 2016 Parade Line Up is coming soon!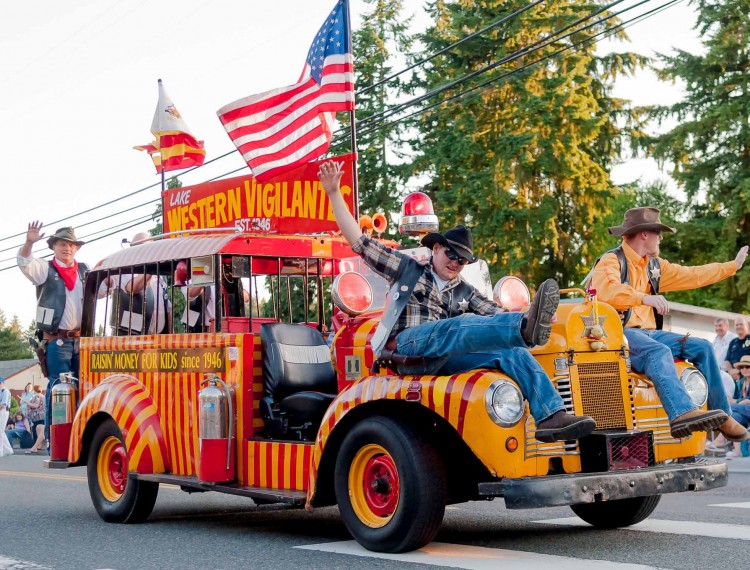 Jim and Karen Miller Co-Grand Marshals for the 2016 Tour de Terrace Parade
Current residents Jim and Karen Miller moved to Mountlake Terrace in fall of 1956. The Millers said they chose Mountlake Terrace because it was a "great place to raise children." Ms. Miller shared that they had six children and families met and became acquainted at the Forest Crest outdoor swimming pool.
Jim Miller was a volunteer Police Officer and served on the reserves for 22 years. He also served on the Mountlake Terrace City Council from 1982 to 1987. Karen Miller was the city's first female Planning Commissioner. Karen is currently the Chair of the Washington State Housing Finance Commission. Karen is retired from the Snohomish County Council where she represented the 4th County Council District for six years. She served as Chair of the Council for two years and as Chair of the Law and Justice and Human Services Committee. She served as President of the Washington Association of Counties in 1996. Karen presently serves on the Foundation Board of Edmonds Community College and is a past President of the Trustees Association of Community and Technical Colleges in the state of Washington. Karen is the past President of the Municipal Research and Services Center of Washington and she also served as the 2006 and 2007 President of the National Council of State Housing Boards and currently serves on the NCSHB Board. She was appointed to the Housing Finance Commission in 1997 and appointed Chair in 1999.